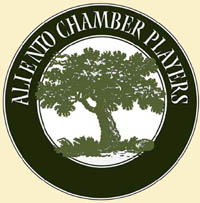 Chamber Music started in royal palaces and then homes across Europe many years ago as a form of after-dinner entertainment. "Chamber" in this instance is defined more simply as a smaller space than a concert hall. Typically, chamber music is performed with each player having a single voice in a composition, combining with other players without a conductor to tell a story told by the composer.
Chamber Music is about a conversation and an emotion created by instrumentalists, and sometimes vocalists. When chamber music is performed in an intimate setting such as a church, that conversation is extended to the audience, who becomes a part of the mood that is being created. This intimacy is one of the many reasons why chamber music has become so popular in the United States today. Here in New England, did you know that every day, people gather to play familiar and beautiful chamber music pieces in their homes? We are simply bringing those works into a performance setting in order to gather more people into our heartfelt conversations.
Watch for some clues as to how the conversations are created! Look at the way the players breathe together, they are watching each other closely all the time, moving together and looking at one another. Look even more closely; see eyebrows move and magically, notes follow in perfect unison. See a chin lift and the next moment, a note in three-, four-, five-part harmony sounds as a chord played as if by a single person. Two players lean toward one another as their parts fit like a puzzle. Together, the chamber musicians strive to play as if they are one player, feeling the heartbeat of the music together.
Would you like to see the development of a good chamber music group in action? Order this beautiful Heart of Chamber Music DVD and see for yourself how a chamber group grows together, developing their musical conversation. Gillian Rogell, who teaches at New England Conservatory, created and narrates the film, offering a practical yet philosophical approach to chamber music. She introduces the "TREE" of chamber music:
Trust
Respect
Empathy
Engagement ...and Enjoyment too!
Aliento Chamber Players heartily endorses this beautiful DVD. Buy it for a good friend, buy it for a music lover, buy it for a young student...it's a true gem.