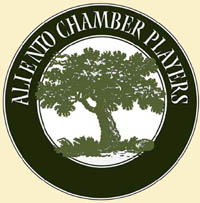 Sunday, September 13, 2020, 4:00pm Trio Aliento presents a house concert

Live Stream available here on concert date!

Dance of the Comedians from "The Bartered Bride," Bedrich Smetana

Berceuse and Dance of the Princesses from "The Fire Bird", Igor Stravinsky

Piano Trio Opus 32, dedicated to Charles Davidoff, Anton Arensky
Allegro Moderato
Scherzi, allegro molto
Elegia, adagio
Finale
Verano Porteño ("Buenos Aires Summer"), Astor Piazzolla

Mary Towse-Beck, piano

Zoia Bologovsky, violin

Dorothy Braker, cello



Our performance begins with a duo from the orchestral literature. These arrangements are chosen with nostalgia and we hope you enjoy!

Bedřich Smetana (1824-1884) finished his quintessentially Czech opera "The Bartered Bride" in 1866. The Dance of the Comedians is a favorite at summertime pops concerts, a Skocná is a rapid Slavic folk-dance, normally in 2/4 metre. The timbre of the Czech language falls more frequently on the first syllable of words, something to keep in mind as you hear this piece.

Anton Arensky (1861-1906)composed his Piano trio Opus 32 in 1894 with a dedication to the virtuosic Russian cellist Karl Davidov, a friend, mentor and teacher of the composer. As Arensky's father was also a cellist, the composer was familiar with the sonorities and capabilities of the instrument. This romantic piano trio begins with a tender melody in a lower register of the violin, with the piano playing undulating chords underneath in a gentle rocking rhythm. The second theme is introduced by the cello, and the movement builds throughout in intensity, before ending in an adagio coda section that will be brought back at the end of the work. The power and energy of the first movement is offset by the lighthearted and effervescent scherzo movement, in which the meaning of scherzo - "joke" really comes forward. The minuet section becomes a rollicking waltz that Arensky became famous for. The third movement of this lyrical trio mixes an elegiac melody with nostalgic swirling passages that have a dreamlike quality, depicting memories rather than the present. The trio is completed by a rondo movement that ends by reminding the listener of all the three previous movements, bringing it to a rousing close.